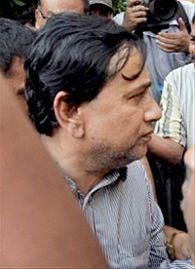 The West Bengal government on Friday opposed a prayer for a probe by the Central Bureau of Investigation into the multi-crore chit fund scam, claiming in an affidavit to the Calcutta high court that at this stage, credibility of the investigation by the state police cannot be doubted.
"At this stage, any direction for handing over the investigation to the CBI would be premature," claimed the affidavit, submitted before a division bench comprising Chief Justice Arun Mishra and Justice Joymalyo Bagchi.
"The police authorities have acted with promptitude commensurate to the urgency of the situation. There has been no laxity on the part of the state respondents in the matter of investigation," it said.
"The main accused persons have been arrested. At this stage credibility of the investigation cannot be doubted," the state asserted in its affidavit.
Sudipto Sen, the chairman of Saradha Group, has been arrested along with two associates from a hotel at Sonamarg in Kashmir. They are in the custody of the Bidhannagar Police, which is investigating the matter.
Opposing the petition, the state claimed that it was politically motivated and therefore not maintainable.
The police authority is interrogating the arrested persons and taking necessary action to unearth the entire scheme and its modus operandi, it was claimed.
Pointing out that apart from the Saradha Group, there were more players in the field and a comprehensive strategy was to be taken to cover all such cases, it said that the government has constituted a four-member commission of inquiry headed by Justice (retired) Shyamal Kumar Sen.
A special investigation team, headed by the director general of West Bengal Police, has also been formed, it was stated in the report.
"The state government has so far undertaken no covert or overt action to shield anybody," it said, denying allegations by the petitioner that efforts are going on to shield influential people allegedly involved in the matter.