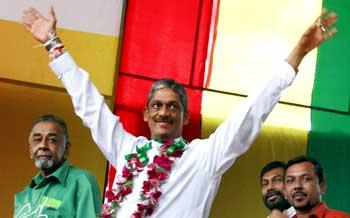 Proclaiming that prospects of a 'change' in the island nation were in the offing, Sri Lanka's presidential challenger Sarath Fonseka on Thursday vowed to restore democracy and eradicate corruption from the country.
Offering himself as a 'Sri Lankan acceptable to all,' the former top army general said he did not belong to any political party, implying that he was in the hustings as a apolitical candidate.
Unveiling his 10-point election manifesto titled 'Believable Change,' the general-turned-politician who has emerged as a common opposition candidate to oppose the incumbent Mahinda Rajapaksa in the race for presidential elections on January 26, also promised to cut taxes on essential food items and bring in welfare nation.
He also promised Rs 10,000 pay-hike for public servants, removal of pension anomalies and giving a better price for paddy to farmers.
Fonseka, who became the first politician to tour Tamil-minority dominated areas of northern and eastern Sri Lanka, promised more benefits to resettle war displaced people in their homes, revamping of health and education policy and boosting up employment opportunities.
The election manifesto was released at a public rally attended by his powerful backers, including leader of the opposition and former prime minister Ranil Wickremesinghe, Janatha Vimukthi Peramuna chief Somawansa Amarsinghe and other parliamentarians.
Fonseka's election prospects received a boost when the political proxy of the Tamil Tigers, Tamil National Alliance announced on Wednesday their backing for his candidature.
Hoping to cash-in on his leading the country to a win over Liberation Tigers of Tamil Elam, Rajapaksa called for early elections, but the surprise candidacy of Fonseka may have upset his applecart as it has divided the loyalties of the dominant voting community Sinhalas and put the Tamils into an almost kingmaker role.
To woo the Tamil voters, Fonseka has promised to free thousands of Tamil youths suspected of having links with the LTTE and to grant amnesty to those who fought against the Lankan army.
Image: Sarath Fonseka gestures to thousands of supporters at a rally in Kandy on December 18, 2009
Photograph: Andrew Caballero-Reynolds / Reuters