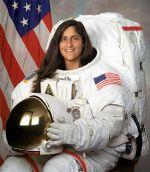 The magnificent view of the Northern Lights from nearly 400 km above the earth's surface from the International Space Station made astronaut Sunita Williams turn metaphysical.
"Being in space can change your perspective. While hanging onto a piece of malfunctioning equipment on the International Space Station I got a view of the Northern Lights nearly 400 km above the earth surface. At that moment I wondered whether there is something else out there," Williams said.
"After seeing the Northern lights I thought to myself, there is a lot of energy in this universe. We know about Northern Lights. We know that it probably comes from solar activity as it interacts with the earth's magnetism. But all that energy, it suddenly dawned on me that we are pretty little in this universe," she said.
Northern Lights is a common name for the light phenomenon Aurora Borealis (named after the Roman goddess of dawn, Aurora and the Greek name for the north wind, Boreas), often seen in northern regions.
Auroras illuminate the northern horizon as a greenish glow or sometimes a faint red, as if the Sun were rising from an unusual direction.
William recollected that during her stay in space a crew member pointed at a portion of the night sky which appeared to be completely black.
"I don't know if it was a black hole. But it was strange to see something all of a sudden in the sky that was totally black. So it made me wonder that whether there is probably something out there that is bigger than what we all know about," she said.
Williams, who holds the record for the most spacewalk time by a female astronaut at 50 hours 40 minutes in seven space missions, was here to participate in an interactive session with students and space enthusiasts on Tuesday.