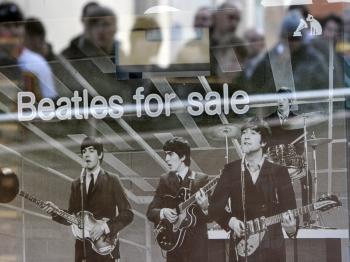 The Beatles have surpassed Jesus in terms of popularity on the Google search engine.
An analysis of search terms showed more people searched for the band on Google than the son of God during September.
The group's popularity maybe linked to the re-release of all of their digitally-remastered albums, along with the release of the video game 'The Beatles Rock Band', reports 'The Telegraph'.
Interestingly, late Beatle John Lennon may be said to be having the last laugh more than forty years after he came under fire, for alleging that the rockers were bigger than Jesus.
The musician was slammed by Christians in March 1966 when he told the 'Evening Standard', "I do not know what will go first, rock-n-roll or Christianity. We are more popular than Jesus now". 
Image: Shoppers are reflected in a window as they queue at a store for the launch of the game 'The Beatles: Rock Band' in Liverpool in northern England | Photograph: Darren Staples/Reuters