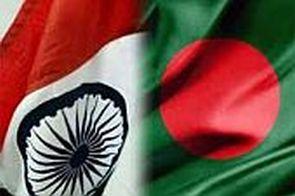 Bangladesh's cabinet on Monday approved a landmark extradition treaty with India, nearly nine months after the two countries inked the deal, a move that could lead to the handing over of several jailed Indian militant leaders like ULFA's Anup Chetia.
"The cabinet has ratified the extradition treaty with India," Cabinet Secretary Mosharraf Hossain Bhuiyan told reporters after a cabinet meeting chaired by Prime Minister Sheikh Hasina.
He said the treaty would now require the approval of the Parliament and it could come into effect after both the sides exchange documents following legal procedures.
The Indian cabinet had already endorsed the treaty, Bhuiyan said.
Home Minister Mohiuddin Khan Alamgir had inked the agreement with his Indian counterpart Sushil Kumar Shinde on January 29.
The agreement would pave the way for sending back top ULFA leader Chetia, who has been lodged in Bangladeshi prison for over a decade, to India.
According to the agreement, only persons with charges like murders, culpable homicide and other serious offences would come under the purview of the deal while offenders of small crimes awarded with imprisonment for less than one year will also not be wanted under the treaty.
Bhuiyan said persons accused of political crimes would also not come under the purview of the treaty.
Earlier, the home minister said the deal would benefit Bangladesh more as the number of convicted or suspected criminals hiding or staying in India was more than that of Indian criminals lodged in jails or hiding in Bangladesh.
Officials, however, said the agreement would pave the way for sending back Chetia to India as he has already served his sentence in Bangladesh and expressed his desire to return home.
Earlier, media had reported that Bangladesh was set to return Chetia to India as he sought to be repatriated after languishing in jail for 16 years.
Chetia - ULFA's founder general secretary - had sought political asylum in Bangladesh thrice in 2005, 2008 and in 2011 after being arrested from Dhaka's Mohammadpur area in 1997.
The treaty will also clear the way to bring back criminals like Subrata Bain and Sazzad Hossain to Bangladesh from India.
Bain and Hossain are currently lodged in Delhi's high-security Tihar jail.