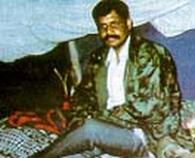 A Bangladeshi court on Thursday handed down the death penalty to 14 people, including the chief of Jamaat-e-Islami and a top leader of India's separatist outfit United Liberation Front of Asom, in the country's biggest ever weapons haul case, nearly 10 years after the seizure took place.
"The Metropolitan Special Tribunal-1 has handed down the death penalty to 14," the private Samoy TV said soon after Judge SM Mojibur Rahman delivered the verdict in the crowded courtroom amid tight security.
ULFA military wing chief Paresh Barua was sentenced to death in absentia in the case.
Jamaat-e-Islami chief and former minister Matiur Rahman Nizami and ex-junior minister for home Lutfozzaman Babar in the then Bangladesh Nationalist Party-led rightwing government were also sentenced to death.
Only two of the convicts, Barua and former additional secretary Nurul Amin, were tried in absentia.
The two former generals who were given death penalty are the then director general of the apex National Security Intelligence ex-brigadier general Abdur Rahim and former director of Directorate General of Forces Intelligence ex-major general Rezzakul Haider Chowdhury, who later became the NSI chief.
All the accused were tried under the Arms Act for illegal possession of firearms and the Special Powers Act, 1974 for weapon smuggling. Security and law enforcement agencies enforced a tight vigil as the court in the port city of Chittagong delivered the verdict.
The verdict comes nearly a decade after the accidental seizure of 10-truck loads of weapons destined to the ULFA hideouts in north-eastern India through Bangladesh territory.
Nearly 1,500 boxes containing submachine guns, AK-47 assault rifles, submachine carbines, Chinese pistols, rocket launchers, 27,000 grenades and 11.41 million bullets were seized from 10 trucks on the early hours of April 2, 2004.
Soon after the verdict, pro-BNP lawyers protested against the ruling, chanting slogans outside the courtroom and calling it "politically motivated".
The defence lawyers said they would appeal against the verdict before the high court.
But prosecution lawyer Ashak Das told reporters, "With the verdict today, those who wanted to turn Bangladesh into a militant state and used its territory for weapon smuggling were punished appropriately."
The elite anti-crime Rapid Action Battalion, armed police and plainclothesmen virtually laid a security siege inside and around the court complex while the people were allowed inside only after security checks.
The case was shelved for years after the arms seizure during the past BNP-led coalition government.
The subsequent military-backed interim government in 2008 ordered a re-investigation amid allegations that there was a deliberate attempt on the part of the then administration under the BNP government to suppress facts to weaken the case.