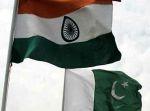 Taking a strong exception to National Conference leader Mustafa Kamal's remark on Indo-Pak talks, Union minister Gulam Nabi Azad on Tuesday night asked the party to clear its stand on the issue.
"We have taken a strong exception to Mustafa Kamal's remarks. This is serious issue. This not the first time that this gentleman (Kamal) has been giving statements like this,"
Azad told PTI.
Kamal, while addressing the National Conference workers at Kishtawar on Sunday, claimed that the government was reluctant to sign a 'no-war treaty' with Pakistan.
Brother of Union Minister Farooq Abdullah and uncle of Omar Abdullah, Kamal also hit out at his coalition partner Congress and main opposition, PDP, saying "coalition is compulsion for us" and "we have plunged into power two keep away both of our enemies from each other, otherwise both had numbers to finish us."
Azad said it is high time that NC should clear its stand on which side of the page they are.
"Individual statements can be tolerated but no Indian can tolerate anti-Indian statements. We cannot tolerate it", he said.
Farooq Abdullah had on Monday termed Kamal's remarks as "irresponsible".
"His (Kamal's) statement is irresponsible. Delhi has never been the enemy of Kashmiris," he had said.
Distancing himself from Kamal's statement, Omar had tweeted, "Funny thing is I don't need anyone to make things difficult for me when I have relatives to do it for me."
In another tweet, he said, "They say never work with animals and children. I think it's safe to add relatives to that list as well."