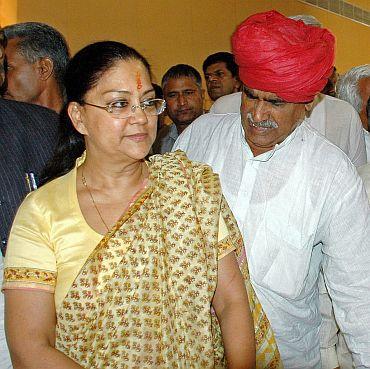 Bharatiya Janata party state president for Rajasthan Vasundhara Raje is a blue-blooded category of politician who inherited political acumen from her mother late Vijayaraje Scindia, the queen-mother of the erstwhile Gwalior state in Madhya Pradesh.
There is something common between her mother and her own personal life. While her mother lost her husband Jiyajirao Scindia when she was very young with four daughters and a son, Vasundhara, who was married into the Jat royal family of Dholpur in eastern Rajasthan whose ruler was Hemant Singh got separated from her husband barely 18-months after delivering her first child.
Vijayaraje contributed immensely in building the Jan Sangh, having served as its national president. She did not object, initially, when her son, the late Madhavrao Scindia joined the Congress, and pursued a different political culture.
However, Vasundhara and her sister Yashodhara who were very attached with the mother chose to be part of the Jan Sangh which was rechristened the Bharatiya Janata Party.
Rajmata raised her children providing them with the best of education. Mumbai-born Vasundhara was happy to do her college at Mumbai's SophiaCollege and she chose politics (honours) in her BA.
After her unhappy marriage, she started living with her mother and while she lived with her in Delhi and Mumbai, learnt more about her mother and her idealised standards of lifestyles and behaviour.
Her relationship with her mother was both cordial and antagonistic. Later, when her sister Yashodhara's marriage also ran into trouble, the mother became a worried. In her autobiography, she regretfully recounts how little sympathy she was able to extend to her two daughters.
With a young child to groom and living away from her husband, Vasundhara agreed to contest the Lok Sabha election in the 70s, but lost her very first election from Morena to a Congress candidate.
Until 1984, she had no plans to pursue politics. One day, when sitting in Mumbai's plush Cricket Club of India watching a TV show, she was called by the club's office as the late Rajasthan Chief Minister Bhairon Singh Shekhawat was on phone from Jaipur.
He wanted her to contest the assembly election from Dholpur, her own principality. She could not believe her ears that the offer to join politics came from the patriarch such as Shekhawat.
She contested the 1985 assembly election from Dholpur and won, then the BJP was in opposition and she had little role to play.
In 1989, when the Lok Sabha elections were announced, she was asked by Shekhawat to contest from Jhalawar, a former principality.
Vasundhara had since made Jhalawar in the Hadauti region as her political base. Jhalawar was itself a principality, but the last ruler Inderjit Singh who was a schoolmate of former Prime Minister Rajiv Gandhi in Doon allowed an outside royal such as Vasundhara to build her political base there, and was elected to the Lok Sabha on four occasions and elected twice from Jhalrapatan to the Vidhan Sabha.
Now her son Dushyant Singh represents the area in the Lok Sabha.
She served as a minister of state at the Centre when the party asked her to take up the challenge in Rajasthan when Shekhawat became the vice president. She was not prepared for it and was not accepted by the seniors in the party.
But the senior leaders of the state were quietly told by senior leaderL K Advani that its the party's decision that she would head the operations in Rajasthan. The die was cast.
In 2003, she went on a Parivartan Yatra asking people to get rid of the Gehlot government. The people backed her and she became the chief minister.
It was her first big responsibility, but she was, and still is, gullible.
A few bureaucrats used her as a puppet. She was encouraged to ignore corruption. But soon, when the land prices in Jaipur were skyrocketing; it was found that her government was allowing land use conversion in big way and people in the government were making money.
In her first tenure, the Congress accused and labeled her as a corrupt chief minister.
After the BJP lost power in the 2008 elections and performed poorly in the 2009 Lok Sabha elections Vasundhara lost a lot of clout and became less and less visible.
The BJP in opposition was in total disarray with the party changing two state units' president. Vasundhara herself chose to be in low profile and spent more time out of Jaipur.
The party was undecided whether to confer her the leadership as she was under scathing attack for full four years of the Congress rule in which Gehlot as a one-point programme criticised the BJP government, blatantly drubbing her as the most corrupt chief minister the state had ever produced.
The BJP's high command deliberately kept her out of the state politics focus until eight months ago when she was holidaying in London and was summoned by the party and entrusted with the leadership of Rajasthan once again. The party, in its own internal assessment, found that only she could provide the leadership and still commanded the charisma.
She was made the BJP president replacing Arun Chaturvedi in February, and since April 4 this year she has been going from place to place and in the midst of heat and dust in the hot Thar Desert.
She chose her own favourite way of connecting and meeting with people and she set out on the Suraaj Sankalp yatra.The yatra brought her close to the people; as a result, the bridges which were burnt were re-laid.