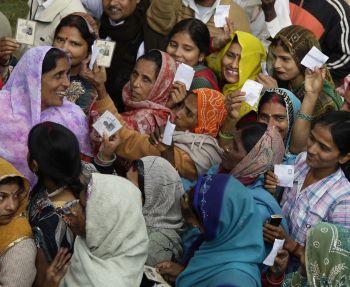 Women outnumbered male in exercising their franchise in the Chhattisgarh polls that propelled the political pundits to work on the new equations arising after the final phase of elections.
According to reports reaching here, the turnout of women was about 16 per cent more than the number of votes cast in the 2008 state polls. The heavy polling of women had made both the Bharatiya Janata Party and Congress leaders to claim that the votes now sealed in the Electronic Voting Machines were in their favour.
The second phase of polling for 72 assembly constituencies concluded Tuesday. Though the final polling percentage had not been compiled, officials hinted that the state would record a polling of 75 per cent to 80 per cent. In the first phase of polling on November 11 for the 18 constituencies, 75 per cent polling was recorded.
"Women normally do not come down to vote for a change," political observer and retired bureaucrat Dr Sushil Kumar Trivedi told Business Standard. If that had been the trend, BJP leaders had all the reasons to smile -- Chief Minister Raman Singh had been all set to create hat-trick in the state.
Senior BJP leader Subhash Rao observed that normally the woman voters in the state had been voting for the BJP. "This had been seen in Bastar also," he said, adding that inflation had been one of the major reasons as women had been finding hard to run the house.
The Congress however contended the BJP claim and said the women had voted against the BJP this time. "The poor law and order situation in the state was one of the big issues that made women to come out in large number and vote against the BJP," Congress spokesperson Shailesh Nitin Trivedi said.
While the political pundits had been talking about Bastar holding the key to power, the saying would differ in the state polls 2013. "It is now the women who are holding the key and their support will ensure which party forms the next government," Dr Trivedi added.
Photograph: Jitendra Prakash/Reuters