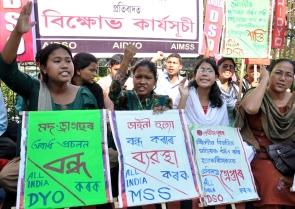 The woman who died after being thrown out of a tempo taxi raising public outrage in Assam, was not raped, the post mortem report established, while one person was arrested on Thursday.
According to the post mortem report, no rape was committed, but the woman suffered injuries on the head and near the eyes in the incident which occurred after she boarded the three-wheeler to pick up her six-year old daughter from school at Boginadi in Lakhimpur district on November 22, police sources said.
The first information report had alleged that the woman was raped by four men in the tempo who gouged out her eyes, injured her in the head and neck before throwing her out on the national highway about 50 meter away from Boginadi police station.
Raju Chetia, who was picked up by police on Wednesday on suspicion of involvement in the incident was arrested during the day, the sources said.
He was arrested under section Indian Penal Code 302 (murder) and 376 (wrongful confinement), they said. During interrogation Chetia confessed that he and the woman were in a relationship for the last two years, but denied that he was involved in her killing, they said.
The home department formed a Special Investigation Team during the day as announced by Chief Minister Tarun Gogoi on Wednesday.
Based on media reports, the Assam State Women Commission had also taken up a suo moto case.
Image: Protestors in Guwahati