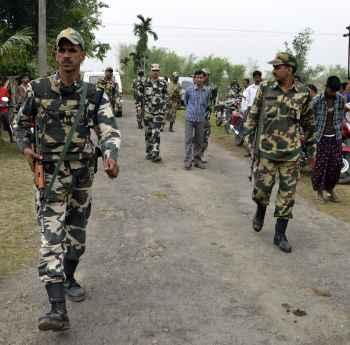 Nine more bodies were recovered from a village in Baksa district on Saturday morning, taking the toll to 32 in the violence unleashed by National Democratic Front of Bodoland-Songbijit militants in Bodoland Territorial Administration Districts area in Assam.
The bodies of the victims, including four children and two women, were recovered from Khagrabari village under Salbari sub-division adjacent to the Manas National Park, official sources said.
Bodies of two children were identified as Ilina Khatun and Ariful Islam.
Three children, aged between seven and ten years, who were hiding in a forest on the banks of river Beki were also rescued, the sources said.
Besides Chirang and parts of Dhubri districts, indefinite curfew has also been imposed in Kokrajhar and Baksa districts where 23 people were killed.
The army has been staging flag marches in the violence-hit areas to instill confidence among people and to bring the situation under control, the sources said.
The violence started when heavily armed NDFB-S militants entered a house and shot dead three members of a family, including two women, and injured an infant of a minority community near Ananda Bazar area in Baksa district on Thursday.
This was followed by indiscriminate firing by the insurgents at Balapara-I village in neighbouring Kokrajhar district in the early hours on Friday which left eight persons dead and injuring several others in their own houses.
Last night, 12 bullet-riddled bodies, including those of five women and a child, were recovered from Nankekhadrabari and Nayanguri villages in Baksa district where nearly 100 houses and a wooden bridge were set ablaze by the ultras.
PM keeping close watch
Prime Minister Manmohan Singh is keeping a close watch on the Assam situation in the wake of violence in two communally-sensitive districts of the state that has claimed at least 32 lives.
National Security Advisor Shivshankar Menon briefed Singh on Saturday morning on the situation, PMO sources said.
Singh then talked to Cabinet Secretary Ajit Seth and told him that all help should be extended to the state government to ensure peace.
Expressing deep anguish and sorrow over the killings, Congress president Sonia Gandhi had on Friday decried the role of sectarian and militant groups.
Image: Paramilitary personnel patrol an attack-hit village in Balapara, Assam, on Friday
Photograph: Reuters