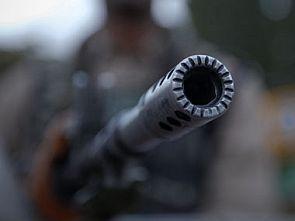 Suspected militants belonging to the National Democratic Front of Bodoland (Sangbijit faction) have abducted a senior engineer hailing from Andhra Pradesh.
The engineer B A Rao, working in Assam for a company engaged by Power Grid Corporation of India, was abducted from Chirang district in Bodoland Territorial Council in Assam late Sunday evening.
Police sources said the engineer was returning after a site inspection when his vehicle was waylaid by a group of suspected Bodo militant at Nangalbhanga area of the district.
Rao was travelling in his official vehicle with a supervisor, a helper and the driver.
They were abducted at gunpoint but the driver, helper and supervisor were released after sometime. The militants, however, seized their mobile phones.
"They (the suspected militants) were in army fatigue and armed with sophisticated weapons," Rao's driver told the police. Police suspect that Rao has been kidnapped for ransom though no demand has been received as yet.
Army and police have launched a massive search operation in the area. The Sashatra Seema Bol has also been alerted along the India-Bhutan border in the vicinity. The area is close to the thickly forested border of India and Bhutan.