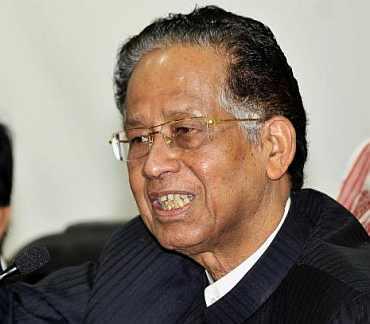 Opposing the Central government's proposal of allowing Bangladeshis visa-free entry into Assam, Chief Minister Tarun Gogoi said he couldn't allow it, as the state was already facing a problem of illegal migration.
"We can't allow visa-free entry of Bangladeshi nationals as we already face a severe problem of illegal migrants from the neighbouring country," said Gogoi about Narendra Modi's plan to giving visa-free entry to Bangladeshi nationals below 18 years and above 65 years of age.
The chief minister, however, added that the Assamese government would accept two other proposals – the introduction of a bus service along the Shillong-Guwahati-Dhaka route and transit facility for Bangladeshi vessels to use the Brahmaputra route.
He said these proposals were bring introduced in order to improve the country's ties with Bangladesh.
Speaking at the press meet, the chief minister informed that he had also sought Rs 489.24 crore from the Centre to complete the process of updating the National Register of Citizens in Assam so as to allow detect illegal migrants entering the state.
Regarding the widespread apprehension over the dams being constructed in Bhutan, he said the Centre should ensure the people of Assam that they would not suffer owing to the projects and suggested that an expert committee should be set up in this matter.