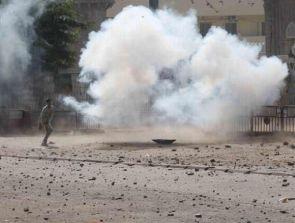 Two persons were killed and more than 15 injured, including senior police officials, in police firing and mob violence, following which indefinite curfew was clamped in two areas of Assam's Goalpara district on Monday.
Violence broke out in Mailapathar area near Rakshashini forest after the body of a 50-year-old cowherd, who was missing since Sunday, was recovered this morning, official sources said.
Local people came out in large number to protest the killing and soon a mob of villagers attacked policemen injuring five of them including District Superintendent of Police S P Saikia and Deputy Superintendent of Police Debojit Nath.
Police then opened fire to disperse the mob in which two people were killed and more than ten injured, three of them critically.
Following this, indefinite curfew was clamped in areas under Forest Gate and Mailapathar police stations as the situation turned tense, the sources said.
Senior police and civil officials were camping in the area, the sources said.
The injured have been admitted to GoalparaCivilHospital and the critically wounded have been referred to GuwahatiMedicalCollegeHospital, the sources added.