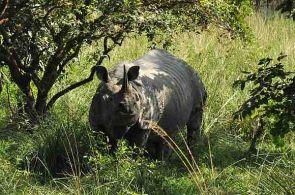 Facing flak for its failure to check unabated poaching of one-horned rhinoceros in Kaziranga National Park the Assam government has sought public opinion on its intention to launch a pilot project of dehorning (trimming) rhinos.
The Assam government on Thursday called for public opinion for the foolproof protection of the animal so that its committee headed by the Principal Chief Conservator of Forest (Wildlife) could take a decision.
Interested citizens or organisations are required to send their opinion for or against the suggestion by March 30 to the office of the Principal Chief Conservator of Forest (Wildlife), Basistha, Guwahati-29 by post or by e-mail to pccf.wl.assam@gmail.com.
The move comes even as poachers killed two rhinos within 24 hours in the 'well -guarded' Kohora Range Kaziranga National Park and took away their horns. On Thursday morning, forest guards found a bullet-riddled carcass of a male rhino sans its horn inside the park under the Kohora forest range. Forest officials said the rhino was killed two days ago.
An adult rhino was killed by poachers at Laudubi forest camp area of the Kohora range on Wednesday morning. Two cartridges of a .303 rifle were found from the spot.
At least 14 rhinos have been killed so far this year in the Kaziranga National Park, a UNESCO World Heritage Site. Last year, 41 rhinos had fallen prey to poachers.
The Gauhati High Court in order passed on March 6 asked the Assam government to stop poaching of rhinos in Kaziranga National Park "at any cost" and at the earliest, and directed authorities to submit a high-quality methodical report within two months intended at permanently curbing poaching there.
The order has been passed by a Division Bench comprising Chief Justice A M Sapre and Justice A K Goswami on the basis of a PIL taken up suo motu by the high court in 2012, in which it also expressed "serious concern" over continued death of rhinos in Kaziranga at the hands of poachers.
"We express our serious concern about the incidences of poaching in Kaziranga National Park which have recently taken place and are taking place from time to time, and we view it seriously. At any cost, in our view, the same must be stopped at the earliest to save nature's most priceless and precious endangered species rhino. Indeed it is our duty to preserve this god's gift to this world at any cost," the high court order said.
Image: One-horned rhinoceros in Kaziranga National Park, Assam