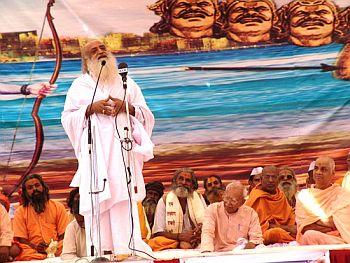 The Supreme Court on Thursday declined to grant any relief to Gujarat's spiritual leader Asaram Bapu, who sought a restraint on the state police from arresting him in an attempt to murder case.
A bench of Justices Altamas Kabir and Deepak Verma rejected the plea of senior counsel Sushil Kumar, who pleaded that the apex court 'pass an order that no coercive step should be taken by police' against Asaram until the Special Leave Petition filed by him was taken up for hearing.
"We will not pass any such order," the bench said while posting for January 4 the hearing on the SLP filed by Asaram Bapu challenging the registration of attempt to murder case against him by the Gujarat Police on December 6.
The criminal case under Section 307 IPC and 25 of the Arms Act was registered against Asaram Bapu and two others for allegedly attempting to murder Raju Chandak, a former follower of the religious guru.
The FIR was lodged following an attack on Chandak who was shot at by two unidentified persons in Ramnagar locality of Sabarmati on December five.
Chandak had testified against Asaram before the D K Trivedi Commission probing the mysterious death of two ashram boys Dipesh and Abhishek Vaghela.
Asaram Bapu has alleged he is being falsely implicated as he was delivering a religious discourse in New Delhi at the time of the alleged attack.
According to the police, based on the statement of Chandak, who is recuperating in a private hospital in New Delhi, Asaram Bapu has been made the prime accused on whose alleged instance the two men fired at him while he was returning home on a motorcycle.
Chandak suffered bullet injuries in his shoulders and chest following which he was referred to the SAL hospital, where he underwent a surgery.
Asaram, who commands a large following in the country, and his followers have courted controversies in the past.
In July 2008, two students in his ashram in Ahmedabad were found dead in mysterious circumstances. Following the incident and certain allegations against the ashram, Asaram's followers went on a rampage after angry locals beat them up.
His disciples have also been accused of land grabbing in Surat.
Late last month, nearly 200 followers of the religious guru were arrested for allegedly pelting stones and injuring policemen during a rally.

Image: File photo of Asaram Bapu delivering a sermon at a religious function