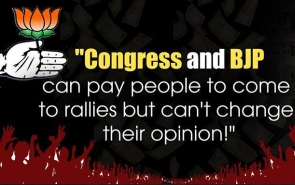 Aam Aadmi Party leader Arvind Kejriwal on Saturday kick-started his three-day-long road show in Uttar Pradesh.
Kejriwal's rally, which started from the party office in Kaushambi, will cover over 15 Lok Sabha seats in the state.
The rally will cover Ghaziabad, Pilkhuwa, Hapur, Amroha, Moradabad, Rampur, Bareilly, Shahjahanpur and Hardoi.
"UP is dominated by caste and religion politics; we want to replace it with politics of development. The state is backward and we intend to target other parties over a number of issues plaguing the state," said senior party leader Manish Sisodia, who is accompanying Kejriwal in the road-show.
"Corruption, dynastic politics and criminalisation of politics are the main issues we will target in UP. Also, power is another important issue we intend to target as it is a bigger problem than Uttar Pradesh," said another party leader and UP in-charge Sanjay Singh.
Kejriwal will also address a rally in Kanpur on Sunday.
The rally, the second after the one in Rohtak in Haryana last week, is also a part of its national campaign, ahead of the Lok Sabha elections.
Through the road rally, AAP intends to target rival parties, especially the Congress and the Bharatiya Janata Party, over the Reliance gas overpricing issue.
The party has over 3.5 lakh workers and activists in Uttar Pradesh.
It also plans to counter political heavy-weights like Samajwadi Party supremo Mulayam Singh Yadav, Congress-Vice President Rahul Gandhi and President Sonia Gandhi, Union ministers Salman Khurshid and Ajit Singh by fielding candidates against them.
On March 2, the road rally will start from Hardoi and proceed to Unnao and reach Kanpur, where Kejriwal will address a rally.
In Kanpur, Kejriwal will meet leaders from the business community and social organisations.
On March 3, the road rally will head to Delhi and cover Auraiya, Etawah, Firozabad, Agra, Mathura and Palwal.
Kejriwal's road rally, comprising a fleet of over 50-70 cars, led to a traffic jam in Kaushambi on Saturday morning.
Image Courtesy: https://www.facebook.com/AamAadmiParty/