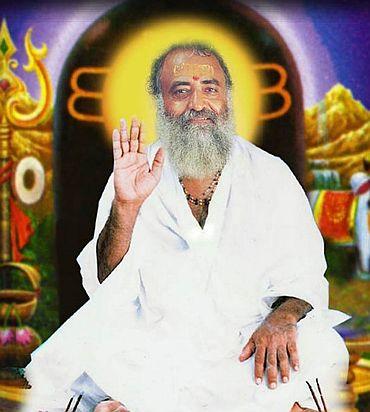 Self-styled godman Asaram Bapu was on Sunday quizzed by police in Jodhpur after being flown from Indore where he was arrested after midnight amid high drama for allegedly assaulting a 16-year-old girl at his ashram.
Seventy-two-year-old Asaram, who was escorted by Rajasthan police personnel led by Additional Commissioner of Police Satish Jnagid, arrived at the airport here on board an Air India flight via Delhi at about 12.30 pm.
After coming out from the airport, Asaram moved into one of the seven luxury vehicles escorted by cops and was taken to the Rajasthan Armed Constabulary Battalion Campus in Mandore where he was being interrogated, sources said.
Unprecedented security arrangements were made at the airport, where Asaram faced black flag protests, on the streets, outside and inside Asaram ashrams, and the Mahila Thana (women's police station) where the case has been lodged.
The convoy was followed by seven buses with armed police personnel.
The godman might be taken for spot verification, Deputy Commissioner of Police Ajay Pal Lamba told mediapersons. Asaram was arrested by the Jodhpur Police after midnight
from his ashram in Indore and escorted by a large posse police personnel to the airport, where he spent the night on a sofa in the VIP lounge.
An Air India flight carrying Asaram from Indore left at 7.50 am for New Delhi from where he boarded another flight for Jodhpur.
A team of doctors from Indore's MedicalCollege had earlier found him fit for questioning and travel, the sources said. Armed with the medical report, a team of the Jodhpur police arrested Asaram and whisked him in a white jeep about half an hour after the stroke of midnight, after waiting for nearly eight hours at the ashram.
Meanwhile, the father of the girl called off his fast-unto-death in Shahajahanpur district of Uttar Pradesh soon after the arrest of the godman in Indore. Circle Officer, City, Rajeswar Singh offered the girl's father juice to end his fast that he began on Saturday morning demanding immediate arrest of Asaram.
"The first hurdle has been overcome. We would take our fight forward," the father said after ending his fast after midnight.