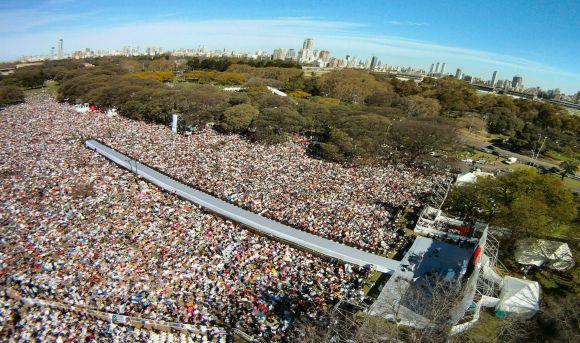 A record 1.5 lakh Argentines meditated against violence to create a stress free world at Buenos Aires in a programme conducted by the Art of Living.
Led by Spiritual Guru Sri Sri Ravishankar, the meditation was also joined by thousands from 300 cities across. Sri Ravishankar addressed the crowd in Spanish, ý​"Life is so short, there is not enough time to love yet people are occupied in conflicts. We are fortunate to know how to get rid of stress."  
The audience responded with a huge cheer and applause when asked by the spiritual leader if they would join in to create a beautiful world. 
People from all backgrounds and age groups came together to meditate. Urging the crowd to cultivate a sense of belongingness, he added, "We need to educate ourselves in peace, love, integrity, honesty. It cannot happen if the mind is stressed and the intellect is filled with prejudice. The world needs upliftment and with meditation we would be able to do that."