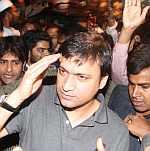 The ethics committee of Andhra Pradesh legislative assembly will make necessary recommendations to Speaker Nadendla Manohar for initiating disciplinary action against Majlis-e-Ittehadul Muslimeen MLA Akbaruddin Owaisi over the alleged "hate speech" he delivered in Adilabad district.
Owaisi, who heads the seven-member Majlis-e-Ittehadul Muslimeen in the Assembly, is already facing criminal cases in this regard.
The ethics committee of the assembly met in Hyderabad on Monday, under the chairmanship of Bandaru Satyananda Rao, and took a serious view of Owaisi's speech.
"We will view the video footage of Akbar's speech and made necessary
recommendations to the Speaker during the next session of the assembly," Satyananda Rao told reporters after the meeting.
Communist Party of India member K Sambasiva Rao sought disqualification of Owaisi as an MLA for his intemperate remarks that violated constitutional norms.
Other members of the committee concurred with Sambasiva Rao's views. The ethics committee chairman later communicated the members' views to the Speaker.
The Speaker also referred the complaints he received against Akbar to the committee.
"We will examine Akbar's speech and then recommend necessary action to the Speaker. Depending on the gravity, the ethics committee could even recommend disqualification of the errant member," Satyananda Rao said.