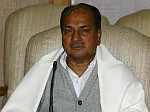 Defence Minister A K Antony is not part of Prime Minister Manmohan Singh's delegation that will hold talks with British Prime Minister David Cameron during which defence deals are expected to come up for discussion.

The defence minister is not part of the delegation, ministry sources said. However, no reasons were given for Antony not being part of the delegation.
During the talks, the British side is expected to take up the issue of Eurofighter combat aircraft for India's requirement of 126 multi-role fighter planes for the Indian Air Force.
The controversial chopper deal involving Anglo-Italian firm AgustaWestland may also come up for discussion.