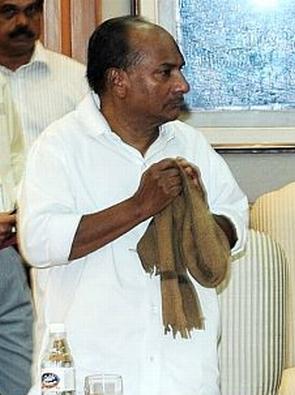 Amid the raging controversy over his statement on the Poonch killings, Defence Minister A K Antony on Wednesday briefed Prime Minister Manmohan Singh on the situation on the Line of Control in Jammu and Kashmir, where five troops were recently killed in an ambush.
Antony met Dr Singh against the backdrop of the controversy over his statement -- that the soldiers were killed by "terrorists along with people dressed in Pakistan Army uniform".
Antony has come under severe attack over his statement, with the Opposition saying it amounted to giving an escape route to Pakistan, which has always been in a denial mode on the involvement of its army personnel in any act against India.
He sought to defend his statement, saying it was made on the basis of information received at that time.
Making a suo motu statement in both the Houses of Parliament on Tuesday, Antony had said an Indian Army patrol, comprising one junior commissioned officer and five other ranks, was "ambushed on our side" of the LoC in Poonch sector of Jammu and Kashmir.
"The ambush was carried out by approximately 20 heavily-armed terrorists along with persons dressed in Pakistan army uniform," he said.
"In the ensuing firefight, five Indian soldiers were martyred and one soldier was injured," he said.
Antony maintained that his contention about the involvement of terrorists in the assault was based on "whatever information" he had.
He told Rajya Sabha that he will get back to the House if he got more details about the incident in Poonch after the visit of army chief Gen Bikram Singh to Jammu on Wednesday.
"When, as the defence minister, I make a statement in Parliament, I have to clarify on whatever information I have. Today, the army chief has gone to the area, let him come back. If there are some other details, I will convey them to you," he said.
Antony said, "Regarding the defence and protection of integrity of the country, the nation is one, Parliament is one. There is no compromise on this."
He spoke in the House amidst an all-round attack on him, with the opposition accusing him of making a "false statement" on the killing of Indian soldiers.
The House witnessed an uproar over the issue and saw three adjournments in the pre-lunch session.
The Bharatiya Janata Party had sought a clarification and apology from him. The party accused him of "giving an escape route to Pakistan" by his statement which, they said, "impeached upon national security".