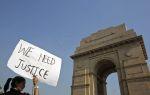 Accusing the government of acting in haste on the anti-rape Bill, Bharatiya Janata Party on Friday said it will make its stand clear on the proposed legislation at an all-party meeting on March 18.
"We are in favour of strong anti-rape bill. We want the strongest possible punishment for the perpetrators of such crime," BJP leader Venkaiah Naidu told reporters outside Parliament.
Attacking government, he said, "Government for its own reasons first acted in haste and then issued an ordinance and now they want to make changes in the ordinance.
"Now government has started consultation process. They should have done it much before. BJP will explain its stand in all-party meeting very clear. We are very clear in our views and we will explain our views in the all-party meeting on March 18."
Terming the bill as anti-women, SP leader Naresh Agarwal said "the employers will hesitate in hiring women after the implementation of the bill. It entails penal provisions for certain acts like even looking at women which looks absurd in the present condition."
He said SP feels the bill will be anti-women and not pro-women. "It will create problems not only for women but for men also as they are likely to be victims of it. We will oppose it strongly."
Rajya Sabha MP Javed Akhtar said "there are chances of misuse of the law. So the rules in the law should be well defined. But I am not in favour of withdrawing the bill. But stalking and voyeurism should be well defined in details."
Admitting problems because of stalking and voyeurism, he said "the condition of women is not very good. So we have to make laws to protect the weaker sections."