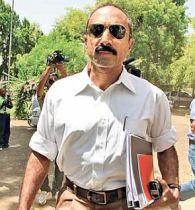 Suspended Gujarat IPS officer Sanjiv Bhatt wrote a letter to senior Bharatiya Janata Party leader and Rajya Sabha MP Arun Jaitley, inviting him for a national debate on any issue pertaining to the 2002 riots in the state.
"It would be my pleasure to have a national debate with you on any issue pertaining to the Gujarat carnage of 2002 at a forum/venue and timing of your choice," Bhatt wrote in his letter to Jaitley who had defended Gujarat Chief Minister Narendra Modi on Tuesday in his blog over the riots.
In his blog, the Leader of the Opposition in Rajya Sabha contended there was a "sustained campaign (conspiracy)" against Modi over post-Godhra riots, which "has collapsed as it was based on falsehoods".
However, Bhatt argued the Gujarat Government-appointed inquiry commission on post-Godhra communal violence has still not given its finding on Modi. The probe panel was given its 21st extension last week.
"The issue regarding the role and culpability of Narendra Modi is still at large before the Justice Nanavati and Justice Mehta Commission of Inquiry."
Bhatt, a known Modi-baiter, had filed a petition in the Supreme Court against the chief minister over the riots.
In his letter, the IPS officer pointed out that the Gujarat High Court had asked the state government to give him access to 47 documents related to the riots to enable him to file an affidavit before the Commission.
However, these documents have not been provided by Modi government, Bhatt maintained.
The controversial IPS officer has been facing a few cases related to custodial death and torture.