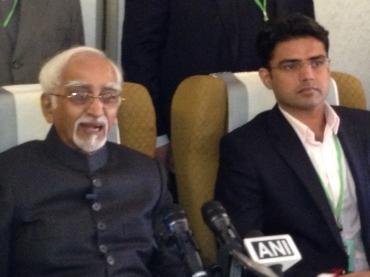 Vice President Hamid Ansari on Monday arrived in the Vietnamese capital Hanoi on a four-day visit to "honour traditional friendship".
At an onboard press conference on his special flight to Vietnam, the Vice President described Vietnam as "integral to India's Look East policy".
Symbolic maybe, but Ansari has a full schedule over the next three days.
On Tuesday, after a wreath-laying ceremony at the Monument of National Heroes and Martyrs and at the Ho Chi Minh mausoleum, Ansari will hold bilateral talks with his Vietnamese counterpart, Vice President Nguyen Thi Doan. In the evening he will call on President Truong Tan Sang followed by a meeting with Prime Minister Nguyen Tan Dung, and call on Nguyen Phu Trong, Secretary General of the Communist Party of the Socialist Republic of Vietnam. The hectic day will be rounded off with a dinner hosted by Vice President Nguyen Thi Doan.
In between he will also commemorate the India Vietnam Friendship Year 2012.
Ansari then flies to Ho Chi Minh City -- the former Saigon -- on Wednesday where in the afternoon he will visit the War Remnants Museum, the Vietnam History Museum and interact with the chairman of the People's Committee of the city, to be followed by a dinner with Le Hoang Quan, chairman of the city's People's Committee.
On Thursday, he will make time to visit the historic Cu Chi tunnels, scene of action during the Vietnam War, and attend the Indian community's reception hosted by the ambassador Ranjit Rae before emplaning for New Delhi.
Ansari said his visit will reinforce the cooperation between the two nations in different areas.
The thrust of the ties between the two nations, both of who share a similar economic trajectory of consistent growth over a decade before tapering off in 2012, will be trade. Currently at a measly $4 billion, efforts are on to escalate it to $7 billion.
"The target area is trade," Ansari said in his onboard briefing, "both in the bilateral and ASEAN context."
Minister of State for Corporate Affairs Sachin Pilot, who is part of the vice president's delegation, said he had no agenda in Vietnam, and no special significance should be attached to his presence there.
Asked if he had a viewpoint on the Vietnam government's crackdown on pro-democracy activists, Pilot said, "No, we have no opinion on the internal affairs of another country. We may be a democracy but we are not in the business of exporting our ideology."
Image: Vice President Hamid Ansari and Minister of State for Corporate Affairs Sachin Pilot at the onboard press conference