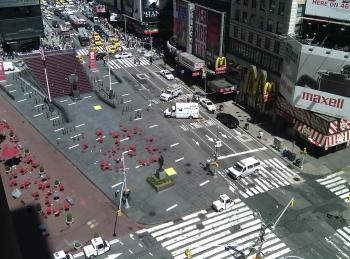 A week after a car bomb was diffused in the nick of time, another "suspicious package" was found at Times square on Friday, creating a major scare in New York.
An all-clear was given after investigations proved the package was nothing, but the contents of a cooler that was left in front of a hotel. It was located close to where the SUV with the car bomb was placed by terror suspect Faisal Shahzad on Saturday.
A bomb squad robot completed its X-ray of the suspicious cooler, but it turned out to be a false alarm. New York Police officials later gave an all-clear. "Situation all clear. The cooler contained water bottles," said NYPD.
It was the second suspicious-package call and at least partial evacuation in the area today. Police cordoned off the square with yellow tape, and bomb-sniffing dogs surveyed the area.
Since the foiled car bomb attack last Saturday in Times Square, the number of "suspicious package" calls to the NYPD has increased.
Between Sunday and Wednesday, police have checked out 493 suspicious packages, compared with 381 in the same period last year, according to a report in Wall Street Journal.
On May 1 police had found a car bomb in Times Square, that failed to explode, sparking a two-day manhunt that led to the arrest of Pakistani-born US citizen Faisal Shahzad.
Image: Times Square being evacuated on Friday.
Photograph: Reuters