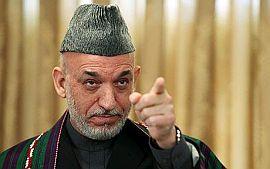 Pakistan on Monday criticised President Hamid Karzai for calling on Islamabad to stop backing terrorists as a condition for negotiating a strategic partnership pact, saying the Afghan leader's remarks were "misplaced and without any basis".

Responding to Karzai's assertions that conditions will be attached to negotiations on a Strategic Partnership Agreement with Pakistan, Foreign Office spokesman Moazzam Khan said the "comments reportedly made by President Karzai and certain other quarters in Afghanistan are entirely misplaced and without any basis".

Khan clarified that it was Afghanistan, and not Pakistan, that had sought the pact. He said the proposed agreement was suggested by Karzai during a trilateral summit of Afghanistan, Pakistan and the US in New York.

This was reflected in a press statement issued in New York on September 29, he added.

During a news conference in Kabul on Thursday, Karzai outlined conditions for negotiations on a strategic pact with Pakistan.

Karzai, who has accused Pakistan of harbouring Taliban fighters, said: "First they should stop terrorists, suicide bombers crossing to Afghanistan. If these conditions are met -- terrorism is stopped, extremism is dismantled, anti-Afghan activities are stopped, destruction of Afghanistan is stopped, friendship starts between the two countries which hasn't happened so far -- then a strategic pact would be signed between Afghanistan and Pakistan."

Karzai said Afghanistan would be "happy to have strategic relations with Pakistan" but there are "some conditions and preconditions" that have to be fulfilled by Islamabad.

Responding to Karzai's remarks, spokesman Khan said Pakistan "desires to promote good neighbourly relations with Afghanistan on the basis of mutual respect and mutual interest".

Referring to the allegations made against Pakistan, Khan said Islamabad has "invested heavily both in terms of human and economic losses to promote stability" in the neighbouring country.

"Pakistan would like to have a mature and responsible dialogue with Afghanistan. However, diplomacy through the media needs to be avoided," he said.

Relations between Afghanistan and Pakistan have been strained due the activities of militant groups like the Haqqani network based in Pakistan's tribal belt.

Islamabad has also accused Kabul of failing to act against militants responsible for a string of cross-border raids that killed dozens of Pakistani soldiers and civilians.