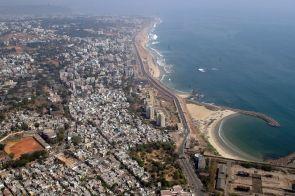 Even as the Congress struggles to convince its Seema-Andhra leaders to stay put in the party and not resign over the Telangana issue, several leaders are already holding talks on the future course of action.
The resignations will take place as they need to answer the people of their region, but in principle they have made their peace with the decision, a Congress source from Andhra Pradesh told Rediff.com.
"During the various rounds of talks and discussions, the future of Seema-Andhra was also discussed. The leaders have unanimously agreed that the regions of Seema-Andhra will continue to be called as Andhra Pradesh even after the separation of Telangana. There is no doubt about that issue and each one has a consensus on the same. There is also no proposal to divide the state any further", the Congress source informed.
Although it has been agreed in principle that Hyderabad would be the common capital of the state for ten years, many Congress leaders feel that it would be better to move out as soon as possible.
"There is an urgent need to build a new capital and move on. This way we would get some clarity and can commence setting up the infrastructure as soon as possible", the leaders said.
However, there is still some confusion over the new capital and there is a consensus needed on this issue. The first name that was proposed was Vishakapatanam which is a developed city. It has two ports and an airport and hence connectivity is not an issue. But the issue regarding Vishakapatanam is that it is not centrally located and many may oppose this.
The other proposals are Vijaywada or Guntur which are more centrally located to both regions of Andhra and Rayalaseema. Ongole is also a name that is being proposed. But here there is absolutely nothing and only the location appeals to both regions. However there is a need to build this place from scratch and hence may not be considered.
The final decision on this issue would however depend on what the Union government decides. The MPs from Seema-Andhra have been demanding a huge sum of money to develop a new capital. They say that the need is urgent since many people settled in Hyderabad from this region would like to move out as soon as possible.
Image: Vishakapatanam may not be named the capital as it's not centrally located
Photograph Courtesy: Wikimedia Commons