One of the 16 fishermen who have been released from an Iranian jail speaks to A Ganesh Nadar about his ordeal.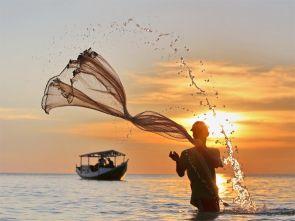 The 16 fishermen from Ramanathapuram, Kanyakumari and Cuddalore -- all coastal districts in Tamil Nadu -- who were arrested for fishing in Iranian waters were released and sent back to India last week.
The fishermen were employed on four Saudi Arabian boats which were seized by the Iranian navy on December 16 and 22, 2013.
The arrests of fishermen in Iranian waters have become regular as Iran does not share a good relationship with its neighbouring Arab states.
Kalliappan, bottom, left, one of the 16 fishermen held in Iran, is from Thiruppalaikudi, a fishing village in Ramanathapuram.
The 36-year-old has studied only up to the third standard and started fishing when he was just nine years old.
When he started out, the adults in the boat got a full share of the fish while he had to be content with half. Ten years back he decided to try his luck in the Middle East. The work was the same but the returns were higher.
Kalliappan was content with his work in Saudi Arabia until that fateful day in December 2012.
"We were fishing as usual when we saw a trawler coming towards us. When it came near we realised they were policemen carrying guns. We did not know we were in Iranian waters," said Kalliappan.
The fishermen were taken to shore at gunpoint. Most of their catch was sold but a little was kept aside to be produced in court. They were sent to jail for 15 days.
"In court, we met a lawyer who said he would help us. He gave us his phone number but when we called him from jail he did not take our call," recalled Kalliappan.
Fifteen days later the fishermen were sentenced to a year in jail by the court. "We protested but to no avail. In jail they told us that we would be released in six months, but nothing happened," he said.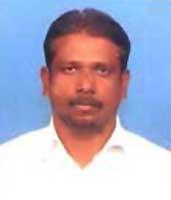 "In the seventh month a notice was stuck in the jail saying there was some religious festival coming up and they would release a few prisoners. We applied for clemency but again nothing happened," said Kalliappan.
"The next time we got a chance to make a phone call we spoke to our villagers in India. It's they who helped us. They petitioned the collector, the fisheries department and Chief Minister J Jayalalithaa."
"It was amma (Jaya) who finally rescued us. She gave my family Rs 1 lakh in my absence, which helped them a lot. She even put pressure on the prime minister and the central government for our release. She is our saviour," says Kalliappan.
Kalliappan and the other fishermen were given another Rs 1 lakh when they returned to India.
"Our money, belongings and passports are still in Saudi Arabia," he says.
Life in jail was tough, says Kalliappan, but they didn't make the fishermen work. "In the morning we got one dosa for breakfast. For lunch they gave us a little rice and for dinner it was chapatti or noodles. The quantity was so little that we starved. You know we fishermen have huge appetites," says Kalliappan.
"We retained our sanity because we were all together in a small room. I am very happy to be back," said Kalliappan.