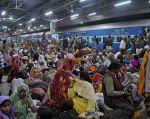 A day after the stampede at the overcrowded Allahabad Railway Station claimed 36 lives, Railway Minister P K Bansal on Monday said it was not possible for railways to run trains every 10 minutes to clear the heavy rush of Kumbh passengers.
Announcing Rs one lakh as compensation for the families of those killed in the stampede, the minister said he was going to Allahabad to assess the situation.
"There are a total of 12,000 trains on Indian Railway's 65,000 km long route system which carries 2.3 crore passengers in a day. So all the trains cannot reach at one spot in a day as there are limitations on the part of railways to carry crores of passengers in a given day," he told reporters.
He was asked whether railways was prepared to handle the rush of 3 crore passengers in a day at Kumbh fair.
"Even if we want to run trains after every 10 minutes we cannot do that because there has to be a minimum gap between two stations and safety of passengers who have boarded the trains is also equally important for us. Trains cannot run like vehicles run on roads," Bansal said.
"We have announced Rs 1 lakh announced for the next kin of the deceased in the incident and Rs 50,000 for the grievously injured persons and Rs 25,000 for those who have suffered simple injury in the stampede," he said.
The stampede has claimed lives of 36 people till now. "There were 36 dead and 39 injured out of which three are in serious condition," he said.
"I am going to Allahabad along with chairman railway board to see the arrangement there. Because there will be three more important holy baths where large number of people are expected to come to the Kumbh Mela," the minister said.
The next holy bath at Kumbh fair is slated to be held on February 15 and 25. There is one holy bath in the next month also.
Bansal also announced free passes for the families of victims who want to reach the site. "Relatives of victims can avail two AC second class passes to reach the site and for their return journey also," he said.
About the arrangement, he said 220 trains were arranged for the occasion besides 212 regular trains which pass through Allahabad and adjoining stations.
"There are enclosures made for catering to the passengers for 220 special trains. Now we are pressing more trains to clear the rush. Yesterday, 69 special trains were pressed into service and today till now 27 more trains have been pressed into service," he said adding. "We are trying to divert some more trains for the Kumbh Mela."
"There are three more holy baths in the coming days. We have to strengthen the arrangement," he said.
Talking about Sunday's stampede, he said enclosures were broken due to the heavy rush but no railings were broken.
"We have launched helplines at many stations and we have received about 1100 queries so far. We are releasing the list of names of deceased and injured persons on railway websites," he said.