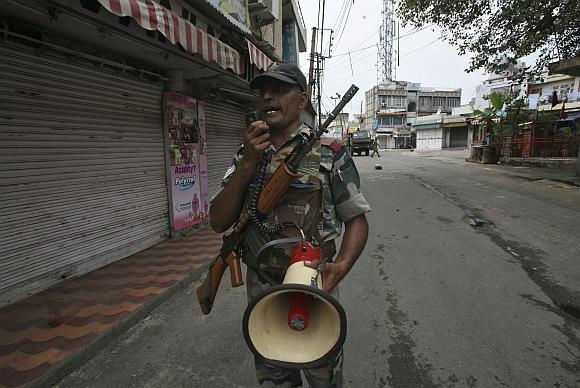 An all-party delegation on Tuesday visited Kishtwar, which witnessed communal strife recently, and took stock of the situation as curfew remained in force in the trouble-torn district of the Jammu region for the 12th straight day.
The all-party delegation, which arrived in Kistwar on Monday evening, held talks with members of both the communities and senior district officers in a bid to de-escalate the tension.
The members of the delegation visited the violence-hit areas in Kishtwar, where curfew was clamped on August nine in the aftermath of communal clashes, and assessed the situation, officials said. Four members of a ministerial team, led by Deputy Chief Minister Tara Chand, had held separate meetings with leaders of the two communities on August 18.
A peace rally, comprising members from both the communities, was taken out in Rajouri border town on Tuesday to ease communal tension.
The rallyists appealed to the people to maintain communal harmony. The situation was limping back to normal in Kishtwar and no untoward incident was reported from anywhere, District Magistrate Baseer Khan said.
However, "No relaxation in curfew was given on Tuesday in view of the passage of Machail yatra (annual pilgrimage to the holy shrine of goddess Chandi)", he said. On Monday, the curfew was relaxed for four hours in Kishtwar where communal clashes had left three dead and more than 20 injured.
rthur Road Jail in Mumbai on May 16 after he surrendered before a designated TADA court and was shifted to Yerawada prison six days later.