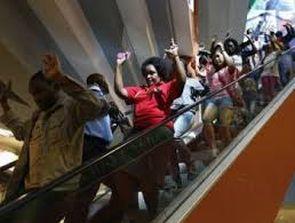 Members of an alleged London cell of the Al Shabaab terrorist group, behind the recent shopping mall siege in Kenya, have secretly been stripped of British citizenship.
At least four men with links to the group behind the Nairobi massacre have had their British passports removed by UK Home Secretary Theresa May on national security grounds.
A fifth man from London with terrorist links is using human rights legislation to block his deportation to his native Ethiopia, the 'Sunday Times' reported.
Those stripped of British citizenship rights include Bilal al-Berjawi, who first travelled to Somalia – the base of Al Shabaab – in 2007 and rose up the ranks to become briefly Al Shabaab's second-in-command.
Berjawi, who was born in Lebanon, also raised funds in Britain for the terrorist group.
His neighbour in west London and a childhood friend was Mohamed Sakr, who also joined Al Shabaab.
Berjawi and Sakr, a dual British-Egyptian national, controversially lost their citizenship in 2010 while they were abroad.
Sakr's parents were told by the Home Office that the decision was based on their son's involvement in "terrorism-related activity", the report claims.
Last year Berjawi, 27, and Sakr, 26, were killed within a month of each other by American drone strikes in Somalia.
A third friend, Walla Rahman, 31, also from west London, has been linked by the Ugandan media to bombings claimed by Al Shabaab in Kampala in July 2010.
A total of 74 people died in the attacks as they watched the World Cup final at two bars.
Rahman's father, Ismat, told 'The Sunday Times' that his son had also been stripped of his British citizenship. But he denied that Rahman, who came to the UK from Sudan aged 10, had ever travelled to Somalia or had joined Al Shabaab.
"He has never been involved in such a thing," he said.
Rahman's father claimed his son had moved back to Sudan five years ago and was appealing against the decision to remove his British passport.
The fourth Londoner to be stripped of British nationality is Somalia-born Mahdi Hashi, 24, a former community worker. Hashi vanished in Somalia last summer and later resurfaced in US custody.
He faces trial in New York, where he is accused of being a member of "an elite Al Shabaab suicide bombing unit" who had knowledge of the group's chemical weapons capability.
Hashi's family believe he was tortured and illegally handed over to the Americans.
A fifth man, who is alleged to have provided support to Berjawi, Sakr and Rahman, avoided being returned to Ethiopia earlier this year after appeal court judges ruled he could face ill treatment there. The Home Office has recommenced deportation proceedings against him.