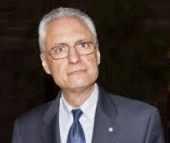 Airports across the country have been alerted to prevent Italian Ambassador Daniele Mancini from leaving the country. The decision was taken by the Union home ministry a day after the Supreme Court restrained the Italian ambassador from leaving India without its permission, official sources said.
The apex court had taken exception to the Italian government's refusal to send back two marines charged with the killing of two fishermen.
The two marines were allowed by the court to go to Italy to cast their vote in the elections there after the Italian ambassador had given an assurance to send them back.
Attorney General G E Vahanvati had brought the issue on Thursday before the apex court, saying, "It's a breach of undertaking given to the highest court of the land and the government is extremely concerned about it".
After hearing the AG's submission, the bench issued notices to the Ambassador and the two marines and asked them to file their response by March 18.
The two marines were on board Italian vessel 'Enrica Lexie', when they shot dead two fishermen off the Kerala coast on February 15, last year.