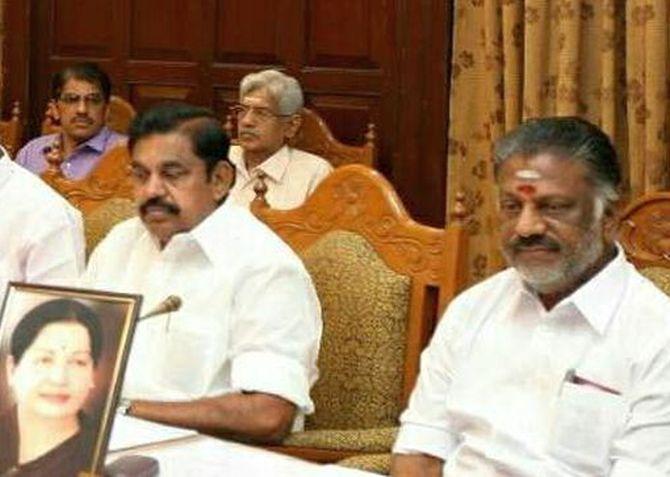 Prospects of a merger of the two factions of the All India Anna Dravida Munnetra Kazhagam brightened with the Chief Minister K
Palaniswami-led Amma camp on Thursday moving against the appointment of V K Sasikala's nephew T T V Dinakaran as deputy general
secretary.
The move by the chief minister's faction was hailed by the rebel camp with its chief O Panneerselvam saying a decision 'reflective' of people's expectations would be taken soon.
A resolution adopted at a meeting of the chief minister's faction said the appointment of Dinakaran was against the party rules and that its cadres have been asked to ignore his directives.
The Panneerselvam faction, which has been demanding ouster of Sasikala, now in jail, and Dinakaran as a pre-condition for merger, termed Thursday's development as an 'awakening'.
Dinakaran, who was in Thanjavur, on his part put up a brave face and asserted he was in control of the party.
An AIADMK Amma meeting chaired by Chief Minister Palaniswami said Dinakaran cannot hold any party post as he was not a member continuously for the past five years.
A resolution adopted at the meeting referred to Dinakaran's expulsion in December 2011 by then party chief Jayalalithaa and subsequent re-admission in February this year by her successor and his aunt V K Sasikala.
In his reaction, former chief minister and head of the AIADMK Puratchi Thalaivi Amma Panneerselvam said a decision would be taken soon.
"We are keenly watching the political situation. Our decision, which will be taken soon, will be reflective of the expectations of the people and the aspirations of the AIADMK supporters," he told reporters in Chennai.
The meeting of the Palaniswami camp, chaired by the chief minister, originally a loyalist of Sasikala, is seen as his most categorical assertion in party affairs since taking over the reins in February this year amid reports that the merger of the two factions could take place before August 15.
The Palaniswami camp had in April announced the sidelining of Dinakaran and Sasikala from the party affairs and the state government.
The latest turn of events prompted the Panneerselvam camp to hold its own consultations and hail the latest rebellion against Dinakaran as an 'awakening'.
Earlier this year, both the camps had initiated steps for holding talks on merger by setting up respective committees, but Panneerselvam side dissolved it in June accusing the CM's camp of not taking constructive measures in this regard.
The fresh developments come days after Dinakaran sought to assert his position in the party by returning to active party work after a two-month hiatus after his arrest in a case of alleged attempt to bribe the Election Commission officials.
On August 4, Dinakaran had announced appointment of some new office-bearers, considered his loyalists.
The resolution adopted on Thursday said Dinakaran's appointment was under the scrutiny of the Election Commission and questioned his authority to name new office-bearers.
Stating that Dinakaran's announcements were creating 'unnecessary confusion', the resolution said they were not binding on any party cadre and asked them to reject them.
Significantly, the meeting also said though Sasikala was made general secretary following the death of Jayalalithaa in December last year, she could not function in the post now in 'view of extraordinary circumstances'.
"Though Sasikala's appointment as general secretary was till such time the formal election of a new general secretary as per party laws, she could not function in view of extraordinary circumstances," the resolution said.
This was an apparent reference to Sasikala's conviction by the Supreme Court in the disproportionate assets case in February last and her subsequent incarceration in a Bengaluru jail to serve her four year term.
Also, her appointment had been challenged and it was pending before the EC, the meeting noted.
Under such circumstances, the party was being run by top functionaries appointed by AIADMK Amma (a reference to the camp led by Palaniswami), it said.
Top functionaries and senior state cabinet ministers led by Palaniswami attended the meeting.
Earlier, Panneerselvam faction also held its own consultations and described the move by the chief minister's camp as an 'awakening'.
It, however, remained firm on its demands--- a probe into the late chief minister J Jayalalithaa's death and expulsion of Sasikala and her family from AIADMK, as a precondition for merger talks.
The Amma faction's joining hands against Dinakaran was kind of an 'awakening', Pannerselvam aide KP Munusamy said.
"They have woken up now only. That awakening should not be confined to Dhinakaran and we will laud them if it extends to Sasikala's family also," he said.
He said the rebellion against Dinakaran, 'a man not acceptable to us', was a first possible step towards the merger talks, when asked if today's developments can be viewed as a precursor to the possible unification.
"Wait and watch our activities if they expel (Sasikala and all of her family)," he said.
Finance Minister D Jayakumar expressed hope of the unification even materialising by August 15.
"We are confident. Hope so," was Jayakumar's brief response when mediapersons sought his reaction on reports that the merger could happen by August 15.
However, Dinakaran on his part put up a brave face even as he stopped short of announcing action against the chief minister for the virtual coup against him.
"I have the authority to take action against anybody who is acting against party's interest," he said.
"For sure, all steps will be taken for party growth. If the situation warrants, surgeries will be performed..."
He hinted action would be taken against those working against the party.
Taking on the Palaniswami camp, he said they had several fears and one of them was over his upcoming state-wide tour.
"I am going to start my state-wide tour. They have given these statements out of fear," he added.
The former AIADMK Rajya Sabha member said when the chief minister's camp had agreed to Sasikala's appointment as party head, the subsequent appointments by her including, naming him as deputy general secretary, was also valid.
The camp had also filed affidavits in the EC supporting the candidature of Sasikala and himself and wondered why they were backtracking now, he said.
Dinakaran said his post was a nominated one and the party general secretary could name office-bearers to such posts. He asserted that the appointments made by him were valid and in tune with party bye-laws.
He also cited Sasikala naming Forest Minister Dindigul C Srinivasan as party treasurer after the expulsion of incumbent Panneerselvam.
Dinakaran said the present AIADMK regime was installed by Sasikala and hence it should not face any threat.
Munusamy dismissed as 'speculation' by media, reports that Panneerselvam would be made deputy chief minister as part of the unification deal.