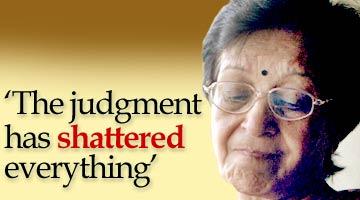 On June 23, 1985, Air-India's Flight 182, Montreal to London, exploded and crashed into the Atlantic Ocean, off the coast of Ireland. All 329 people on board were killed.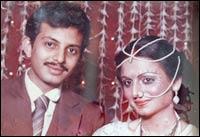 Mukta Bhat, 73, lost her son Parag, 27, an artist; daughter-in law Chand, 27, an air hostess; and six-month-old grandson Siddhant in the crash. They were all returning from a holiday to Canada when the tragedy struck.
The two main accused in the case, Ripudaman Singh Malik, 57 and Ajaib Singh Bagri, 55, who were tried in a Vancouver court in Canada, were acquitted on Thursday.

Bhat had just got the news on the BBC when we reached her Vile Parle residence in suburban Mumbai. She sobbed uncontrollably through this brief conversation with Senior Correspondent Vijay Singh:

It's very unfair and an injustice to the families of the 329 passengers [who died in the crash]. People who ruined the lives of many have been acquitted.
I had faith in the Canadian justice system and was sure the guilty would be punished. Yesterday [Wednesday], the whole night I watched TV to know about the court's verdict.
My daughter, Manjri Varde, who went to Vancouver to attend the court proceedings, informed me over the phone about the shocking verdict.
I am completely shocked that after waiting for 20 years for justice, and after two years of trial, no harm has come to the guilty...they came out of court smiling.
Nobody can understand our sorrow. I lost my complete family in that explosion. What was their [Parag and his wife and son's] mistake? They just went there [Canada] on a vacation.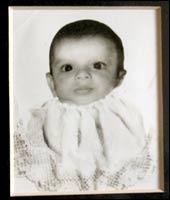 Had my six-month-old grandson caused any harm to those people? Why were they acquitted after killing so many innocent people?
My life has become miserable after their deaths. I hoped that the accused would be punished.
It's unbearable. I have lost everything in the last twenty years. My husband Vijay Datt [Bhat], a noted theatre artiste, died in 1996. He too had hoped justice would be done. Who will understand our suffering?
I went to Canada in 2003 to attend the trial proceedings. I returned feeling certain that we will get justice and the accused will definitely be punished. But after two years of trial nothing happens to them.
I waited 20 years for justice...I spent time engaging in various social activities. I had opened a drama academy in the name of my son - Parag Vijay Datt Drama Academy. But the judgment has shattered everything.
The judgment will encourage extremists. They will feel they can do anything and get away.
We [the families of the victims] are not in a position to challenge the verdict. I think money played an important role.
I had faith in god, but after the judgment I have lost the faith. I have lost the will to live. Now all my life I will be haunted by the knowledge that the killers of my family are all roaming about freely.
Photo: Jewella C Miranda | Headline image: Rahil Shaikh