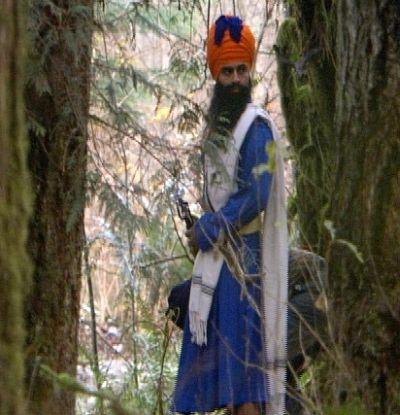 The Surrey gurdwara in British Columbia on June 20 organised the first-ever prayer service for victims of the
Air India bombing
to coincide with its 23rd anniversary.
The three-day, 24-hour-running Akhand Path began on Friday, but strangely with the portrait of Babbar Khalsa leader Talwinder Singh Parmar hanging inside, staring at the faces of the congregation -- some of them being members of the victims' families.
Parmar, who was killed in a police 'encounter' in 1992 in Punjab, where he was in hiding, has been accused of being the mastermind behind the Air India conspiracy by Canada's law enforcement agencies.
Inderjit Singh Bains, the gurdwara's newly-elected president, is unwilling to remove Parmar's portrait from the gurdwara because the latter was not convicted of any crime.

Rattan Singh Kalsi, who lost his daughter Indira, then 21, in the Air India tragedy, is happy that the Surrey gurdwara is organising the memorial service. 'But I strongly object to having Parmar's picture in the temple. They should remove it,' he was quoted as saying by media reports.

Lata Pada, who lost her husband Vishnu and two young daughters in the tragedy, said, 'There is a disconnect between the intent and the actual manifestation of that intent.'
To her, 'it just feels very strange' that the memorial service is in progress where granthis are taking turns for this 72-hour recitation from the holy Granth Sahib with Parmar's portrait hanging in the vicinity.
Image: A file photograph of Talwinder Singh Parmar in the woods in Duncan, British Columbia, Canada. Photograph: Canadian Security Intelligence Service. Reportage: Ajit Jain