Helicopter company names former Supreme Court judge and former chief justice of Kerala high court justice B N Srikrishna as arbitrator. Ajai Shukla reports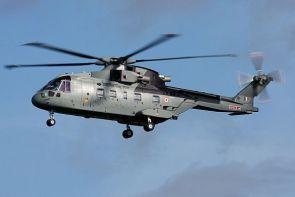 The icy deadlock between the ministry of defence and AgustaWestland is hurtling towards confrontation. In New Delhi, on Wednesday, the MoD held its first face-to-face meeting with AgustaWestland since February, when a contract to supply India with 12 AW-101 helicopters was derailed by allegations of bribes paid to Indian officials through illegal middlemen.
At the meeting, which MoD sources describe as a "hearing", AgustaWestland told Upamanyu Chatterjee, the novelist who is also the joint secretary in charge of land and air systems acquisition, that there was no wrongdoing by the Anglo-Italian helicopter company, or by its parent company, Finmeccanica, in winning the contract.

AgustaWestland also reminded Chatterjee the matter was still under arbitration, by nominating its arbitrator. The MoD is required to nominate an arbitrator by December 3, while a third arbitrator must be nominated by mutual consent.

In a subsequent press release later, AgustaWestland stated: "In accordance with the rules of arbitration under the Indian Arbitration and Conciliation Act, 1996, AgustaWestland is nominating former Supreme Court Judge and former Chief Justice of Kerala High Court, Justice B N Srikrishna; a well-known jurist of unimpeachable experience and reputation."

AgustaWestland is required to respond to a "final" show-cause notice that the MoD issued on October 21. Business Standard understands the response will come in only on November 25 or 26, when it is due.

The company is apprehensive that, in fixing the Wednesday meeting, the MoD was merely enacting a charade of consultation before unilaterally cancelling the contract. This comes after Defence Minister A K Antony appeared to have pre-determined the outcome by declaring publicly on October 30 that AgustaWestland had "violated the contract."

AgustaWestland had retorted then that, "none of the legal processes looking into this matter have been completed." The company told Business Standard "the outcome of the proper legal processes should be awaited."

The contract, worth 556 million-euro (Rs 4,700 crore at current rates), was signed in 2010 for specially protected helicopters to transport high Indian officials and visiting foreign dignitaries in comfort and safety. Three AW-101 helicopters have already been delivered to the Indian Air Force.

The controversy had erupted on February 12 when prosecutors in Milan, Italy arrested Finmeccanica chief ,Giuseppe Orsi, on charges of bribing Indian officials to secure the VVIP helicopter contract. Orsi headed AgustaWestland in 2010, when the IAF contract was signed.

The MoD immediately froze the contract (three helicopters had already been delivered), suspended payments to AgustaWestland, and initiated an enquiry by the Central Bureau of Investigation.