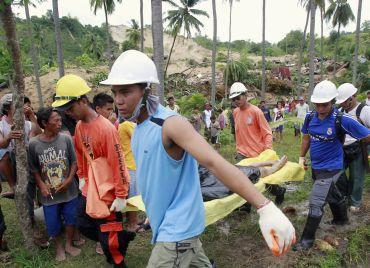 Rescuers scrambled to find survivors in quake-hit central Philippines on Tuesday but a series of powerful aftershocks hampered their efforts as President Ninoy Aquino appealed for calm, a day after a 6.8 temblor shook the country killing over 40 people.
As many as 1005 aftershocks were recorded by the Philippine Institute of Volcanology and Seismology till afternoon on Tuesday as rescue workers struggled to find dozens of missing people in the densely-populated region that was shaken on Monday.
Aftershocks and resultant landslides made several mountainous roads impassable in the Negros, the third-largest island in the Philippines.
President Ninoy Aquino appealed to the quake-affected Central Visayas population to remain calm and cooperate with the authorities as they strive to bring normalcy to the areas.
The quake had struck about 70 kilometers from the coastal city of Dumaguete in Negros.
ANC television news said in a report that Vice President Jejomar C Binay was visiting Dumaguete to inspect the damage and rescue efforts.
School suspended classes in the region as local authorities took account of damage to the school buildings and inspected whether they were safe to hold classes.
Philippines Armed Forces and Navy joined the police force in undertaking evacuation, search and rescue operations, an official statement said on Tuesday.
The department of energy was working to restore power back to affected areas, where communication lines also snapped following the powerful quake.
President Aquino ordered activation of government agency response teams to help quake and landslide victims.
Repair of damaged roads and bridges was initiated by authorities as they cleared routes and re-routed operations.
A total of 44 people were confirmed killed in the quake and dozens were reported missing. The worst-hit was the coastal city of Guihulngan which has a population of 100,000 people.
Officials warned that the toll could be much higher as authorities were yet to accomplish a complete estimate of the total damage caused by the quake, as many areas still remained inaccessible and telecommunication was cut off in some areas.
Those killed in the quake included school children as several buildings collapsed and landslides buried homes.
The strong quake had prompted authorities to issue a tsunami warning but it was lifted later in the day.
The earthquake occurred in the ocean at a depth of 46.6 kilometres.
The Philippines is situated in the so-called Ring of Fire, an arc of fault lines circling the Pacific Basin that is prone to frequent earthquakes and volcanic eruptions.
Image: Rescuers carry a body retrieved from a landslide caused by earthquake in La Libertad, Negros Oriental in central Philippines, on Tuesday
Photograph: Erik de Castro/Reuters