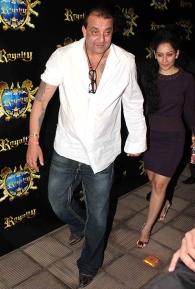 Close on the heels of the release of actor Sanjay Dutt on parole to take care of his ailing wife, a similar relief has been extended to another 1993 bomb blast accused on the same ground.
The Divisional Commissioner, Pune, has ordered the release of Mujib Parkar on parole for a month to attend to his wife, the government informed the Bombay high court on Friday.
Parkar, lodged in Kolhapur prison, had moved the court earlier seeking parole. The Pune Divisional Commissioner and later the Under Secretary of the Home Department had rejected his plea on the ground that police had opposed his release.
The court asked the Divisional Commissioner of Pune to reconsider his decision on Parkar's plea for parole.
His lawyer, advocate Farhana Shah, argued that Parkar, sentenced to five years' term by the Terrorist and Disruptive Activities (Prevention) Act court, had already served half of it. His wife was suffering from appendicitis and had been advised surgery, she said.
Advocate Shah also pointed out that Parkar had been released on parole once. He had not breached any of the conditions imposed by the trial court when he was on bail for 16 years, she pointed out.
The court disposed of Parkar's petition, saying it did not survive because parole had been granted to the convict.
In another development, Zebunisa Kazi, who was also convicted along with Dutt and Parkar in the same case, has also filed a petition in the high court seeking parole.
Kazi, 70, is serving a five-year term in Yerwada prison in Pune. She was denied parole in October 2013. Kazi then filed an appeal before the home ministry in November.
As the appeal is still pending, she had moved the high court to seek an early decision.
Kazi has pleaded that her 90-year-old mother was bed-ridden and she needed to take care of her. Her petition will be heard by a bench headed by Justice Naresh Patil on January 13.

Kazi was convicted by a TADA court in the 1993 bomb blast case, for possessing arms and ammunition.
Dutt, who is undergoing the remainder of his five-year jail term at Yerawada Central Jail in Pune in the 1993 Mumbai blasts case, is currently out on a 30-day parole.