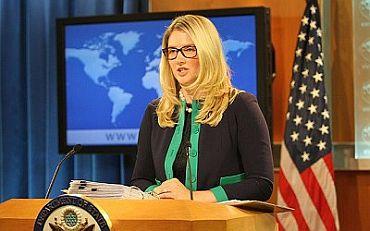 The United States has appealed to India to uphold the Vienna Convention principles and ensure the safety and security of its diplomats stationed in the country, as New Delhi took a series of steps in response to the arrest and inhuman treatment of its diplomat in New York last week.
"We have conveyed at high levels to the government of India our expectation that India will continue to fulfil all of its obligations under the Vienna Convention on diplomatic relations and consular relations. Obviously the safety and security of our diplomats and consular officers in the field is a top priority," the State Department Deputy Spokesperson Marie Harf told reporters at her daily news conference.
"We'll continue to work with India to ensure that all of our diplomats and consular officers are being afforded full rights and protections. Safety and security of our facilities as well is something we take very seriously, and we'll keep working with the Indians on that," she said.
Harf was responding to questions about the withdrawal of certain privileges given by India to US diplomats in the country after the arrest and the alleged inhuman treatment of Devyani Khobragade.

The Indian government was informed about the allegations of visa fraud against Khobragade in September, she claimed.

"The State Department advised the embassy of the Republic of India in writing in September of allegations of abuse made by an Indian national against the Deputy Consular General of India in New York," she said in response to a question.

The United States will continue to have conversations with the Indian government to make sure their facilities are properly secured, Harf said.
Top State Department officials, including the Deputy Secretary William Burns, the Assistant Secretary of State for South and Central Asia Nisha Desai Biswal and the US Ambassador to India Nancy Powell have been in close communications with top Indian officials in this regard, she said, adding that a lot of demarches have been issued by India on this issue.
She said US Secretary of State John Kerry is aware of the issue.
"We have called on them to uphold all of their obligations under the Vienna Convention, everything that they are obligated to do according to our diplomats rights and all of the things that go under the Vienna Convention," Harf said.

Describing this as a sensitive issue, Harf said so far all indications are that appropriate procedures were followed in the arrest of the Indian diplomat.
"Nonetheless we're continuing to review exactly what transpired," she said.
Terming this as an isolated incident, Harf emphasised on moving forward.
"This limited episode with somebody who was charged with a crime is a separate and isolated incident. We believe that we need to move forward," she said in response to a question.

The State Department is trying to find out the kind of treatment that was meted to the Indian diplomat after the arrest, she said.
"There are no indications at this point that it wasn't, but this is the reason we're looking at all the facts, because we do know this is an important issue," Harf said when asked if all the standard procedures were followed.

Image: State Department Deputy Spokesperson Marie Harf