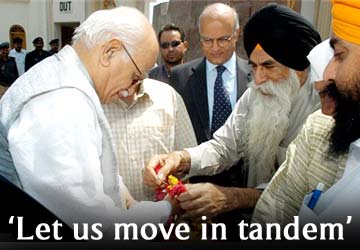 Previous: The imperatives of waging peace
I shall make one last point before concluding. For us to move towards peace and normalcy, it is necessary to move the dialogue process forward on all issues. This is the reason why we both have called it the Composite Dialogue process. I was happy to know that many people in Pakistan also believe that we should move in tandem on all issues.
It is not in the interests of the peace process to let slower progress on some issues become a hurdle in achieving faster progress on others.
Here I shall just flag off a few issues that show how the relations between India and Pakistan suffer from avoidable abnormality. For instance, since coming here I have not been able to watch any of the Indian news channels to see what is happening in India and also, secondarily, to know how my visit to Pakistan is covered. It is ironical that in Pakistan one can see American CNN, British BBC, Chinese CCTV but not Indian news channels.
The abnormality is also evident in other spheres.
India and Pakistan have an official trade of about $ 250 million, which is meager by any standards in today's age of globalization. But the unofficial trade is at least 4-5 times larger. Isn't it ironical that we buy and sell our products of mutual demand by routing them through Dubai and Singapore, and thereby enriching those countries, but have not been able to regularize this trade right across our borders, thereby creating more employment and business opportunities for our own people?
Take another example. Pakistan's economy, like the economies of any country today, has a lot of need for Information Technology solutions. And I am told that, in addition to being met by your local IT industry, you buy costly IT solutions from several western countries.
But right across the border we in India have a flourishing IT industry, which is ready to cooperate with Pakistan and offer cheaper solutions. Ironically, the IT solutions that western companies sell around the world are produced in Bangalore, Hyderabad, Gurgaon and Pune.
I am making this point because Karachi is the commercial capital of Pakistan. And I may add that, historically Sindh was the incubator for global trade. In ancient times our forefathers from Sindh ventured forth to far off lands, in the same way as in modern times Sindhi businessmen have so successfully demonstrated their acumen in Hong Kong, Singapore, London and New York.
In the era of globalization, trade and business are not only about money and profit. They also bring another kind of profit – a stronger stake in peaceful, stable and cooperative relations between two countries.
It is heartening to know that soon we'll have a broad gauge rail link between Munabao and Khokrapar. I suggested to President Musharraf that we should also re-open the sea-link between Karachi and Mumbai via Gujarat. He accepted the suggestion. The issue of re-opening our consulate offices in Karachi and Mumbai is also on the cards.
All these are good signs. But much more can be done. And it should be our mutual resolve to do all the desirable things, and do them quickly.
Concluded
Previous: The imperatives of waging peace
AP Photo/K. M. Chaudhry
Excerpted from BJP President & Leader of the Opposition L K Advani's speech at a function organised by the Karachi Council on Foreign Relations, Economic Affairs & Law, in Karachi, Pakistan, June 5