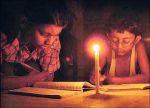 Placing her bets on the ongoing power projects, Chief Minister Jayalalithaa on Wednesday said the acute power crisis in Tamil Nadu would end completely in 2013 with an addition of over 4,000 MW.
With the state reeling under severe power crisis, she blamed the previous Dravida Munnetra Kazhagam Government and Congress led United Progressive Alliance at the Centre for the power shortage.
Making a detailed statement in the assembly after the opposition raised the matter, she said Tamil Nadu would manage over 4300 MW by the end of 2013, thus tiding over the demand supply gap of 4000 MW and that her government was in the process of taking up power projects totalling over 5,000 MW.
Jayalalithaa said power projects, including at Vallur, North Chennai and Tuticorin, would go a long way in augmenting existing power capacity.
She also placed her bets on 925 MW from Kudankulam Nuclear Power Project, besides another 230 MW from Neyveli Lignite Corporation's expanded project and said the impact of power cut would start decreasing from 2013 and there would be no power cut from the end of that year.
She reiterated the previous DMK government had done little to increase installed capacity while the Centre had not heeded her demand to supply electricity to meet its power deficit, including re-allocating the entire 1721 MW surrendered by the Delhi government, forcing Tamil Nadu to move the Supreme Court.