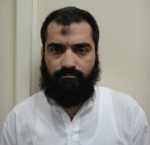 Mumbai 26/11 terror attack's key handler and Lashkar-e-Tayiba terrorist Abu Jundal on Friday got more time from a court in New Delhi for scrutiny of the chargesheet filed against him the Delhi police.
Jundal, alias Zabi, told Metropolitan Magistrate Ajay Malik that he needed more time for scrutinising the chargesheet and all the annexures which were supplied to him on October 8.
Following this, the court gave him time till October 25 to go through all the documents.
The Delhi police have in its chargesheet filed on September 20 accused him of being involved in terror activities across India to avenge "atrocities" against Muslims, particularly those committed during 2002 Gujarat riots.
The chargesheet said besides the Mumbai mayhem, Jundal also confessed to his involvement in various terror attacks across India including Aurangabad arms haul case, Chinnaswamy Stadium blast case, the 2010 German Bakery blast and the Nasik Academy attack case.
The police booked Jundal under section 471 (using as genuine a forged document), 489 B (using as genuine, forged or counterfeit currency), 489 C (possessing counterfeit currency) and 120 B (criminal conspiracy) of the Indian Penal Code.
He has also been booked under various provisions of the Explosive Substances Act and the Unlawful Activities Prevention Act, besides the Passport Act and Arms Act.
The chargesheet also names as suspect Fasih Mohammad, accused of involvement in the conspiracy of bomb blasts in Bangalore and Delhi.
Fasih, who hails from Darbhanga district in Bihar, is now in detention in Saudi Arabia. Besides him, the chargesheet names Iqbal and Riyaz Bhatkal and 17 others as suspects.