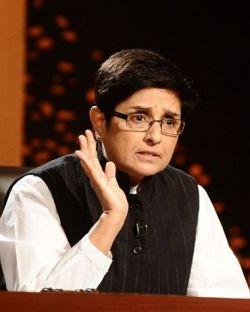 Defending the Lokpal Act passed by Parliament last year, former IPS officer Kiran Bedi on Thursday attacked Aam Aadmi Party charging it with spreading "misinformation".
"Your party did not even read the Lokpal Bill and commented that even mice would not die with this law.
"It was such a misinformation and that was disastrous. We continue to remain misinformed. Lokpal is very good and has to be understood," Bedi said at an interaction on "Yuvaon Ka Haath Kiske Saath?" of Panchayat Aaj Tak.
It was also attended by AAP leader Kumar Vishwas, Congress spokesperson Randeep Singh Surjerwala, Shiv Sena's youth wing leader Aditya Thackeray and BJP's youth wing leader Anurag Thakur.
After the passage of Lokpal Bill, the AAP government had criticised the bill and said it will pass the Janlokpal Bill in Delhi assembly.
Bedi added Congress Vice-President Rahul Gandhi lost the chance to connect with youth over this issue and took steps to pass the Lokpal only after the assembly elections rout in four states.
"Congress brought the law late... on December 17, 2013, which you could have brought on August 28, 2011," she said.
The former cop, who has endorsed her support for BJP's prime ministerial candidate Narendra Modi, claimed the party worked for the improvement of the bill.
"BJP was working with us to improve the Lokpal Bill. They were never avoiding us. We were having late night meetings," she said adding BJP was accommodating the conditions set by Team Anna.
"(BJP leader L K) Advani sahib, (then BJP National President Nitin) Gadkari were very accommodative", Bedi claimed.