While the two major political parties have different policies for the migrant population, there is no concrete national policy as such, reports Bikash Mohapatra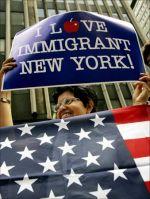 One of the issues that dominated the just concluded United States presidential elections was pertaining to the migration policy.
Traditionally considered the 'land of opportunities' America has seen an influx of people from all over the world in the last few decades, most having come an settled down permanently.
As such a sizeable bulk of the electorate now comprises of the Hispanics, the Asian-Americans, the African-Americans and similar groups, ones that have a significant impact in the elections.
The two major parties have different policies for this migrant population, albeit there is no concrete national policy as such.
"The Republican still have a 'stick' mentality when it comes to the immigrants and believe they have broken the law of the land," explains Aaron Sharockman, political editor of Tampa Bay Times.
"The Democrats, on the other hand, offer a 'carrot' and believe in setting things right, that is integrating the people in the national fabric," he adds. Al Cardenas, Chairman (American Conservative Union) concurs.
"The Republicans haven't adjusted to the changing demographics," he explains, adding, "The Democrats believe in amnesty but that is not exactly a great thing either as it will mean more illegal immigrants in the country. 
"What we need to do is find a common ground, a more pragmatic and permanent solution to the immigration crisis."
The Republicans' aversion towards the immigrants cost them dear in the elections this year -- with their presidential candidate Mitt Romney managing only 25 per cent of that vote (and almost 75 per cent going Barack Obama's [ Images ] way), a fact that they have taken note of.
"The percentage of Latino voters who voted for Obama in these elections was higher than in 2008," points out Eric Hershberg, Director (Center for  Latin American and Latino studies), adding, "The Latino electorate has gone up from eight to 10 per cent, and even more in some swing states.
"Such changes are substantial."  (It is imperative here to mention that Cubans and Puerto Ricans are American citizens and aren't part of the Hispanic vote bank)
There are others who believe that while Romney might have been liberal, his party's stand on the issue meant he had to pay a heavy price.
"In the Republican primary Mitt Romney said something very harsh regarding immigration and status of the immigrants," explains, James Thurber
"Maybe he didn't mean it. But in the final analysis that definitely had an impact on the overall result," he adds. Dotty Lynch, Political Consultant (CBS News), agrees.
"The position Romney took in the Republican primary, he couldn't overcome that in the rest of his campaign," she explains. While the Democrats might have benefitted from their lenient stand of the issue a permanent solution is definitely the need of the hour.
"Our immigration policy needs comprehensive reforms," affirms Ted Campbell, Executive Director (FSGA), adding, "As things stand now neither party has a clear stand on the issue.
"Immigration is like a bleeding wound which no one wants to address." Leonard Steinhorn, director (Public Communication Division), is albeit more optimistic.
"This country is finally acknowledging its diversity in a positive way," he says. Cardenas sums it up, quite elaborately at that.
"In America, if we don't have an immigration policy, we can't have an agricultural, hospitality or healthcare industry," he explains.
"If you don't have a good immigration policy that invites others to some in, and you have an ageing population to boot, you should be geared up to face some serious problems," he continues, adding, "Japan [ Images ] is an example. They didn't welcome immigrants and their economy has suffered in the recent years.
"The Europeans, on the other hand, have had a very inviting immigration policy. If America wants to avoid being another Japan, we need to have a healthy immigration policy like Europe.
"Having said that, the policy doesn't have to be free for all and should be controlled by us throughout."
As things stand one of the major tasks of the Obama administration in its second term would be to put in place a concrete immigration policy and integrate the migrants into the American social fabric.