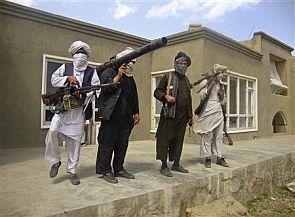 A 'barat' of over 100 Taliban militants, using decorated vehicles, carried out the surprise assault on sleepy guards at Pakistan's third largest jail in the restive northwest region to walk away with 250 prisoners, including top commanders of the outlawed outfit.
"They came like a 'barat' (marriage procession), using decorated vehicles and nobody could judge whether they are going to bring a bride from the city or launch attack," said local police official Muhammad Nawaz Khan.
The midnight attack on Monday at central jail in Dera Ismail Khan in Khyber-Pakhtunkhwa province killed 14 people and injured 17 others, he said.
Khan said the guards were easily overwhelmed by the attackers who were surprised and outnumbered by the militants.
"Six policemen, four prisoners, three civilians and one militant were killed in the gun battle," he said.
He said 248 prisoners escaped after the jailbreak, including some 15 top militants.
He said Taliban sent over 100 fighters armed with assault rifles and hand grenades and having support of eight suicide bombers.
An official of the prison admitted that the Taliban militants were well equipped and trained to repulse any counter move of the security guards of the jail and as such they had completely overwhelmed by them.
Ismail Khan an official of the prison said the attack was so severe that "we could not find time to respond to it effectively" adding that "we had guns but in limited quantity whereas the attackers had rocket launchers, hand grenades and other explosive materials to respond to our move."
Ismail Khan said he was present in inner part of the jail at the time of attack and "I had no idea how to escape and saved my life while crawling on sandy ground".