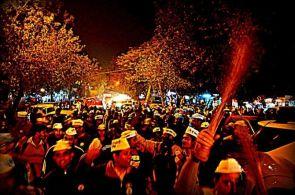 Aam Aadmi Party on Monday claimed that a whopping 98.5 lakh people had joined it as members during a special drive over the last 17 days even as it added that the campaign to expand its base amongst the people has now been extended till Lok Sabha polls.
The 'Main Bhi Aam Aadmi' campaign -- launched on January 10 with an aim of attracting 1 crore members by January 26 -- has drawn a big response across the country among people in almost every strata of society, said senior AAP leader, Gopal Rai.
"People from all sections of society, from almost every district of every state, have joined the party," he said.
Rai said that the whopping response showed that the public has lost hope in other parties and was now looking to AAP for change.
He said that 98,45,745 people have joined AAP as members over the last 17 days.
"While 75.78 lakh people became members through unique form registration, nearly 7.42 lakh others joined AAP by registering on the party's website.
Besides, 10 lakh people have joined AAP through a mobile service for the same while 5.26 lakh became members by sending an SMS," Rai added.
The party will evaluate the capabilities of its members and decide on the responsibilities to be given to them, Rai said.
He noted that there were many who wanted to join the party but could not do so due to a variety of factors.
States like Uttar Pradesh and Bihar were at the top of the list with 18,40,200 and 11,45,000 registrations, respectively.
"Before beginning the membership drive, we had just around 7 lakh registered members. But now, our total membership has touched around 1.5 crore.
"We have got to know that some miscreants are also trying to join AAP. To prevent them from joining the party, AAP has formed a team which would scrutinise the new members," Rai said.
Rai said that given the overwhelming response to its membership drive, it is now clear that AAP is not just a "one-city" party.
Meanwhile, responding to a query as to when AAP was going to release its first list of Lok Sabha candidates, senior leader Pankaj Gupta said that they would begin declaring the names over the next week.
"We have decided to release the first list of Lok Sabha candidates over the next one week," Gupta said.
He added that AAP had received total funds of Rs 7 crore for Lok Sabha polls out of which one-third came from foreign countries.