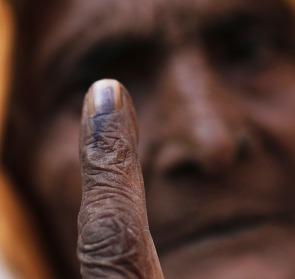 The much-awaited schedule for the Lok Sabha polls was announced by Chief Election Commissioner VS Sampath on Wednesday at a press conference at the Vigyan Bhawan, New Delhi, instead of Nirvachan Bhawan, the EC headquarters. The dates of polling are:
April 7: Held in two states and and 6 parliamentary constituency
April 9: Nine states, 7 parliamentary constituencies
April 10: 14, 92 constituencies
April 12: 3 states, 5 Parl constituencies.
April 17: 13 states and UTs, and 122 Parl
April 24: 12 states and 117 Parl constituencies.
April 30: 9 states and 89 Parl constituencies.
May 7: Seven states, 64 Parl constituencies.
May 12: Three states, 41 Parl constituencies.
The long election schedule will ensure that security forces can be moved across the country for adequate deployment in sensitive areas, Sampath said.
The tenure of the 15th Lok Sabha ends on May 31 and therefore the EC is mandated to finish the election process before that date.
The model code of conduct will come into force immediately, which means the government cannot make any policy announcements. Election Commission sources however said this would exclude the process to appoint the Lokpal or national anti-graft ombudsman, which has already begun.
Sampath added that the late summer and early monsoon were a decider for the election dates, while in certain parts of the country, harvesting and board exams have to be kept in mind as well.
Image: A woman shows her ink-marked finger after casting her vote at a polling station during the state assembly election in New Delhi. Photographer: Adnan Abidi/Reuters