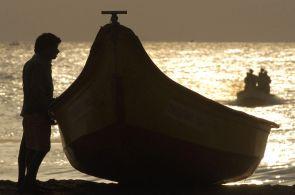 The Indian Coast Guard on Friday seized a Pakistani boat and arrested seven fishermen for crossing the International Maritime Boundary Line near Jamnagar.
The ICG arrested seven Pakistani fishermen and seized the Pakistani fishing trawler today morning after it crossed the IMBL off Jakhau coast near Jamnagar, official sources said.
"Seven Pakistani fishermen were arrested and a Pakistani fishing boat was seized by the ICG for crossing the IMBL," they said.
They have been brought to the Joint Interrogation Centre in Okha in Jamnagar for further questioning.
Pakistan's maritime security agency had on Thursday arrested 58 Indian fishermen after they allegedly strayed into the country's territorial waters.
"Despite several warnings, the Indian fishermen remained inside our territorial waters leading to their arrest and seizure of boats," said Commander Muhammad Farooq, Maritime Security Agency spokesman.
Nine boats belonging to the Indian fishermen were also confiscated, he said.
Porbandar Boat Association secretary Manish Lodhari said the arrested fishermen were from across the state while the fishing trawlers were from Porbandar and Mangrol.
This is the first time this season that fishermen have been apprehended and boats seized by both Pakistan and India since the fishing season began on August 15.
Image used for representational purposes only