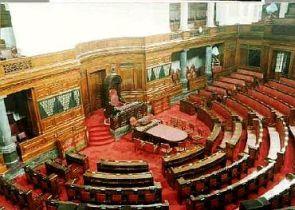 All 5 candidates, three from Bihar's ruling Janata Dal-United and two from the opposition, Bharatiya Janata Party, were on Friday elected unopposed to the Rajya Sabha from the state.
JD-U's Ramnath Thakur, Harivansh and Kahkashan Perween and BJP's C P Thakur and R K Sinha elected unopposed to the Rajya Sabha.
"They have been declared elected after the deadline for withdrawal of nomination papers ended at 4 pm on Friday. In the absence of other candidates, there will be no formal election," an official said.
Last week JD-U announced three new faces for the elections to the Rajya Sabha. The party has not nominated its three retiring MPs -- N K Singh, Shivanand Tiwari and Sabir Ali. They have instead been offered an opportunity to contest the Lok Sabha polls.
On the other hand the BJP re-nominated C P Thakur and named R K Sinha for elections to Rajya Sabha.